Everybody is a Winner with the A Journey Through Learning Facebook Party Swag Bag
Every guest at the party will receive a Swag Bag full of fantastic gifts from a variety of wonderful contributors. The Swag Bag contains the following downloads available at no cost:
1. Homeschool Forms by Peace Creek on the Prairie-Forms for homeschooling and homemaking.  These forms are always free, but now you can find them easily.  From lesson planning forms to home management, you will find forms to help keep you organized and on track.
2. Biography Lapbook by A Journey Through Learning-It is so much fun to read the biography of a person that is well known. We have made it even more fun with this hands-on approach to biographies! This 2-folder lapbook provides 17 mini-booklets in which your child can record the information he learns about the person he/she chooses to read about. There is a place for the person's birth, death, spouse, children, awards, significant accomplishments, job, and much more!!  Use Code FacebookParty11 at checkout.  Download only. 
3. Freezer Cooking 101 by Youthful Homemaker– Are you tired of cooking dinner every single night?Do you want to have a freezer full of food without spending a fortune in your store's freezer section? If so, Freezer Cooking 101 is definitely for you. Author Christina Wong will tell you all the basics of how to fill your freezer without slaving over the stove for hours or clearing out your bank account.
4. Christmas Mini-Builder by WriteShop– What's this? A ragged fir tree helps a stranger on a cold night? A weary homeless man discovers a wallet full of money outside a candy shop? A bad-tempered candy maker finds a magic candy cane and disappears into a snow globe? What kid wouldn't love to write a holiday story filled with such hope, whimsy, or intrigue? These fun, holiday-themed StoryBuilders writing prompt cards (character, character trait, setting, plot) provide the basic elements, and students can mix and match the cards to craft their stories.
5. Ballistic Homeschooling by Great Waters Press- Have you ever had a war break out in the middle of history or had a math lesson last three hours? Then you are probably homeschooling a boy and homeschooling boys can be a huge challenge for those of us raised in our feminized schools. Get hope! Hear from parents that have taught six boys at one time from Kindergarten to 12th grade share how to turn wiggle worms into scholars and boys into real men!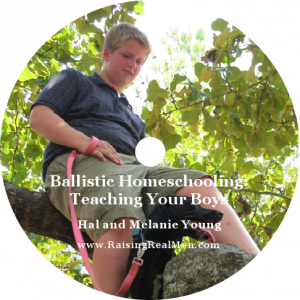 6. Here is a 50% off our Christmas Lapbook with Study Guide Snuggle up on the couch with the kids this holiday season and make the holidays exciting with this Christmas Lapbook with Study Guide. Lapbooks are fun for children of all ages and a great way to have hands-on fun! Discover family traditions, play Christmas trivia, answer questions about Santa's reindeer, decorate a gingerbread man, make food for the reindeer to sprinkle on your lawn, write a letter to Santa and much, much more! Our Christmas lapbook is 3 folders chock full of Christmas surprises.  Use code christmas50 Download only!!