NatureExplorers Snow and Ice
NatureExplorers is giving away their Snow and Ice Study 8.95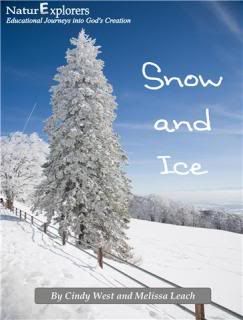 Not everyone thinks of nature study when the temperatures dip below freezing, but God
has some amazing discoveries in store for you when you venture out during the winter
months!
In this unit, you will train yourself to see the beauty and delicate intricacies of snow, ice
and frost, as well as understand the science behind each. Outdoor activity ideas will
encourage you to explore properties of snow, ice & frost, make measurements,
determine directionality, experiment with temperatures and wind chill, experiment with
friction, notice plant and animal reactions, and much, much more!
Indoors, you can continue the learning while staying toasty and warm! Experiments,
demonstrations and hands-on projects will focus on such things as the properties of
snow, ice, frost & crystals, why roads are salted and insulation materials. This unit is
also packed with several ideas for arts, crafts and cooking to go along with the wintery
theme.
The topics don't stop coming! Explore snow terms, historical blizzards, winter sports,
famous snowy mountains, mapping skills, snow safety and plenty more as you are
prompted to complete several fun and practical projects. All this plus 14 notebooking
pages make a jam-packed 64 page unit! Don't let the cold months slow down your
nature study!