I really liked using these lapbooks. The files were all inclusive and included books to read, songs and poems, crafts, and science questions.  The vocabulary is rich, so RB was exposed to some new words which was fantastic! This lapbook did peek RB's curiosity and he expounded upon some of the objectives on his own that were introduced to him. He was proud to show his completed lapbook to his dad!
They (the younger siblings) really liked having some "school" of their own to do along with the big kids. AJTL provides professional quality, educational, and fun lapbooks.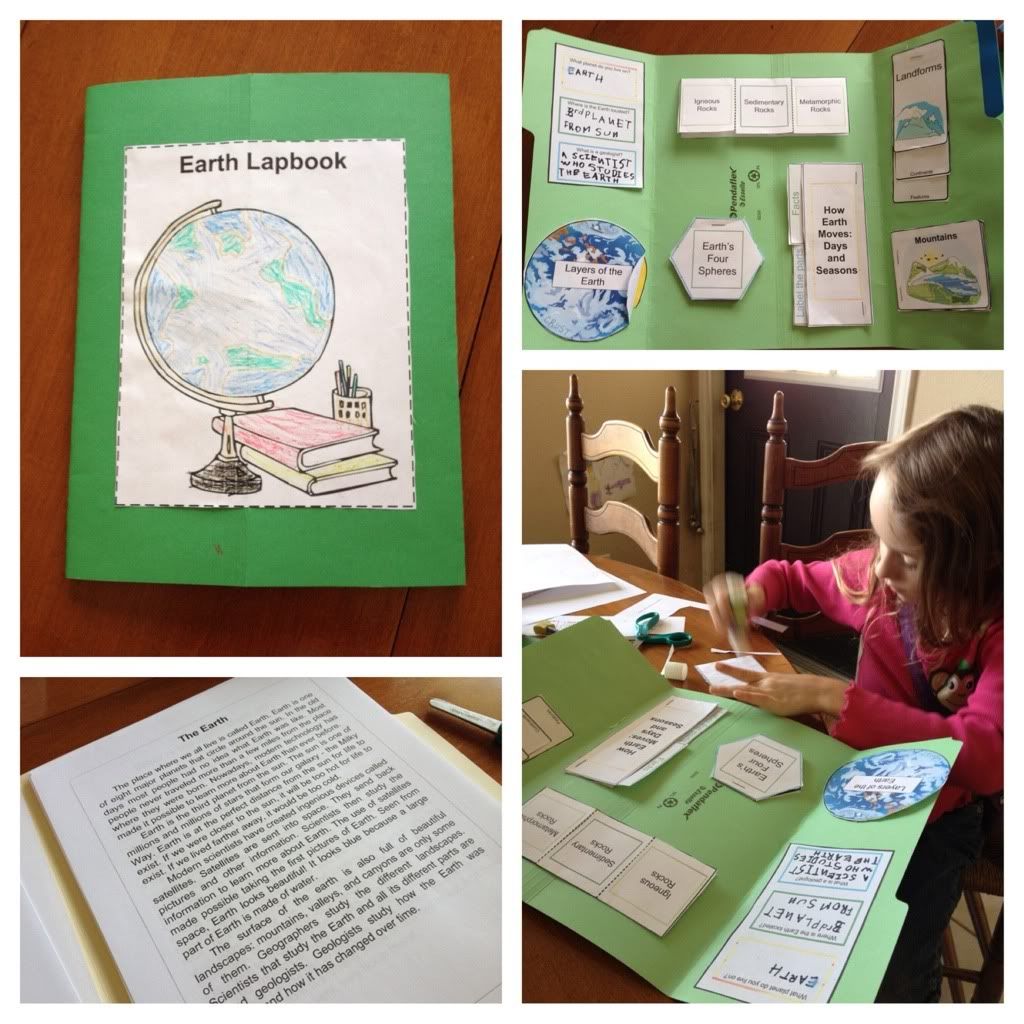 The Earth has been a great break from the usual routine for us. I think it's fantastic to use this way, but would work equally well alongside another curriculum, to supplement and reinforce what's being learned. And, especially for an older child, it can easily be supplemented with other resources to make it meatier and used as the spine for a study of the Earth. I love the versatility, and you can't beat the price!
My son's opinion is: two thumbs way up! He said it's perfect. I think this is a great addition to your homeschool studies. You can learn history or other subjects in a fun way and have something neat to show off what you learned. I do have to say that I had to keep myself from cutting it for him etc. I admit. I'm a tad OCD when it comes to neatness with that type of thing. I do think his crooked cuts add a certain character to it 😉 I do love the fact that while it can be done one page a day, he asks to do multiple pages a day. That tells me he is enjoying learning and what he is learning about. That says a lot to this Mama!
Creative Learners
A Journey Through Learning, they put together everything we needed, spelled it out plainly and  it was not too difficult.  It was easy enough for her to handle, yet hard enough to keep her challenged and interested!
Missy wrote:
"It makes it so easy that it's the quickest we have made it through a lapbook in years! No looking for info and clipart…it's all right there!"
The Knowledge Exchange wrote:
" We love how AJTL is packed with great content and pictures!"
If you are a parent who loves unit studies and have children who love hands-on activities, I think lapbooks from A Journey Through Learning will be a great match for your family!
Lisa wrote:
"Ahh! So easy to use :o)"
Sandra wrote:
"I love the fact that AJTL shows you how the pieces are to go into the lapbook so you can put it together as you finish each one. I've not seen a lapbook done this way before. Saves time and reduces the chance of losing things in the mean time."
We are so excited to announce that A Journey Through Learning Lapbooks was awarded the "Best Hands-On Resource" award from The Old Schoolhouse Magazine Crew.